Shopping Cart
Your Cart is Empty
There was an error with PayPal
Click here to try again
Thank you for your business!
You should be receiving an order confirmation from Paypal shortly.
Exit Shopping Cart
Bethel Evangelistic And Rehabi​Rehabilitation Centre.
These blogs are entirely brief summary of the mission,ministry and project activities of Bethel Society.
                                   Give And it shall be Given unto You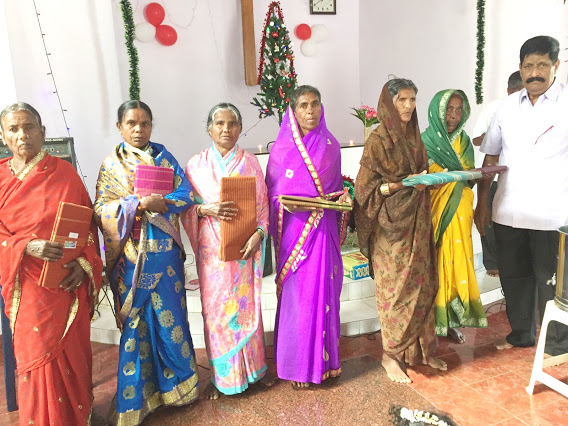 Long lasting SUPPORTERS and their spontaneous flow of sacrificial funds; is the heart of any Charity or Social Service Organization. For grassroots level organizations such as ours this is 100% true and a pressing issue. Once again, "Corona - Lock Down" is extended and made strict and individuals, families and communities from all walks of life are broke and struggle to see both ends meet. Closing down of businesses, losing jobs, for weeks and months; drive people to look out for help from Charity Organizations.
Are We a Christian Organization? Absolutely we are staunch disciples of Lord Jesus. Yes! We are regenerated and holy Spirit Filled Christians who with a passion for the people of India to come to the knowledge of their Saviour. However we are a well balanced mission and not fanatics. We do not work against any church or Christian ministries. We are not CULTS. We do not talk and discuss much about Christian faith here publically because of obvious reasons. As the follower of Lord Jesus, WE LIVE BY FAITH.
Why do we undertake ministries of Compassion or Charity work?
It is because God had ordained us for this noble and virtuous ministry. The Holy Spirit of the Living God thus written," For we are His workmanship, created in Christ Jesus unto good works, which God hath before ordained that we should walk in them"--
(Eph.2:10)
Lord Jesus also gave us charge saying "Let your light shine before men, that they may see your good works, and glorify your Father which is in heaven"---(Matt.5:16)
What are the good works of which He talked about?
A). If someone asks you go with him for a mile distance to with him twain. (Matt.5:41)
B). Give to him that asketh thee, and from Him, and from him that would borrow of thee
turn not them away. ---- (Matt.5:42)
C). But I say unto you, Love your enemies, bless them that curse you, do good to them
that hate you and pray for them that despitefully use you, and persecute you. --
THAT YE MAY BE THE CHILDREN OF THE FATHER WHICH IS IN HEAVEN...
(Matt.5:44-45)
And thus we are faithful "stewards" and "ambassadors" God's good will and compassion to all suffering mankind around us; irrespective of one's colour, creed and communityattachments. We do not amass or accumulate wealth, name and fame for any individual, family or a community. Except the paid staff one or two, all serve as volunteers.
How Trust worthy and Accountability are we?
We exist as a registered society since 1992. We are a registered Society. We are Tax-exempted under 12Aa. We are registered under DARPAN PORTAL, with the union Home Ministry in New Delhi. We are also licensed under FCRA-Act, to receive foreign donations to undertake various projects.
And most recently, our Organization successfully opened a Current Account with the State Bank of India's main branch with FCRA - division to receive all our donations through this single window.
1. Every single Donation we received is issued with an official Receipt.
2. We maintain Account books, voucher books, and all other relevant books and these accounts are annually audited by a qualified "Chartered Accountant" - Auditor- and the accounts are submitted Once every three month to the Union Home Ministry, - also annually- Income Tax Office and to the Registrar of Societies. 
Where are we Serving?:
We are serving among the under developed and less privileged people of South India. Our Head-Office is in Elathagiri - Post, Krishnagiri -Dist, of Tamilnadu state of India - 635108. 
What are our Present Projects that need Very urgent Support?
A. We provide Free School fee for poor and under privileged school children from poor--families.
B. We provide personal care and supply essential needs to senior citizens through ourlocal volunteers. We provide, warm dress, warm blankets,
     new dress, small medicalcare, food, fruits, foot wear and funeral expenses. WE DO NOT RUN A HOME FOR THE AGED.
C). we help widows with self help Projects.
D). we provide relief to flood victims and to Covid-19 & Corona relief to poor families.
E). we conduct annual summer camps for children reaching 3500 annually.
F). we provide Free Bibles to rural believers who cannot buy a bible. 
Now! Let me have the liberty to ask for your donations.
 Yes! Indeed. I am asking you to consider a donation to our worthy ministry. Your smallest donation perhaps can meet the biggest need of some one in a desperate situation. Do not be hesitant or PROCRASTINATE your act of compassion. Act now! We will be extremely grateful to you and will entreat God's favour on your behalf in faithful prayers. We will be grateful doubly; if you can spread the word to your friends and to your community and family and hook someone with our work for humanity.
Thank you!
How Much one should give?
1. Lord Jesus taught to thousands who gathered in a desert mount place to hear Him teach which is known as "Sermon on the Mount said thus," "Give, and it shall be given unto you; good measure, pressed down, and shaken together, and running over, shall men give into your bosom. For with the same measure that ye mete withal it shall be measured to you again.(Luke.6:38)
2. Apostle Paul wrote of the church at Macedonia and how they gave to the ministry of the Lord. "And now, brothers and sisters, we want you to know about the grace that God has given the Macedonian churches. 2In the midst of a very severe trial, their overflowing joy and their extreme poverty welled up in rich generosity. 3 For I testify that they gave as much as they were able, and even beyond their ability. Entirely on their own, 4 they urgently pleaded with us for the privilege of sharing in this service to the Lord's people. 5 And they exceeded our expectations: They gave themselves first of all to the Lord, and then by the will of God also to us" II.Corinthians. 8:1-5) 
3. "Jesus said unto him, "If thou want to be perfect, go and sell that thou hast, and give to the poor, and thou shalt have treasurer in heaven: and come and follow me" (Matthew.19:21).
 4. God expects us to give more than all others. Lord Jesus sat near the collection box on a Sabbath day and was watching people casting their offering. Many gave plenty but there came A POOR WIDOW and dropped two small coins and turning to His disciples Lord Jesus said, The poor woman gave more than all others,...,she gave everything she had to live on". (Matt. 12:41-44)
Know for sure that your smallest contribution and support can meet some ones biggest needs.
 Is it a waste and personal loss when you donate money to a Charity?
This is a narrow mind set and wrong logic. If one owns a "Water producing Well" and do not pump it out but stores it for months and years, the water source will become poison, contaminated and worthless. Our creator God said, "Do not store up for yourself [material] treasures on earth, where moth and rust destroy, and where thieves break and steal" (Math.6:19) The Lord further said, "Give and it shall be given unto you; good measure, pressed down, and shaken together and running over, shall men give into your bosom. For the same measure that ye mate withal shall be measured unto you again". THE LORD DOES NOT ONLY TELL US TOP GIVE BUT
HE GAVE COMMANDMENT HOW MUCH TO GIVE. 
What reward I would get?
1. God who watches over your generosity will bless you and your ward abundantly, beyond your expectations and will bless and increase you and God himself will return to you what you sowed into good works.
2. We as human beings will be praying and interceding to the living God on your behalf.  
3. And the beneficiaries also will gratefully bless you and pray for you. 
4. "Sell that ye have, and give alms; provide yourselves bags which wax not old, a treasure in heaven that faileth nor, where no thief approacheth, neither moth correpteth". (luke.12:23) Lord meant by saying this that our giving alms to the upliftment and sustainment of poor and less privileged has an eternal reward. 
God would invite those who were kind to people and served them, calling as," Come ye blessed of my father inherit the kingdom prepared for you from the foundation of the world: for I was an hungered: and ye gave me meat, I was thirsty ye gave me drink: I was a stranger, and ye took me in..." (Mathew.25:34-35)  
We are totally a God leaned ministry and walk by faith and live praying.
 It is our Spiritual insight to trust the Living God and His written Promises for our personal lives and ministry needs; For He knoweth what we need even before we ask Him.
We expect our supporters have a heart of compassion support us with their prayers and then with contributions an cash and in Kind. We have administrative and staff salaries. We have building repairs and maintenance needs. We need tools and equipments for the office and ministry. So, Kindly join our efforts to take the love and compassion of the loving God to people who are extremely poor and famished. 
A. HOW To SEND Donation to Bethel?
 Read Carefully the guidelines:-
1. You must provide to us your full name.
2. Your full postal Address with door and street number (Not Post Box)
3. Country Origin.
4. Your E-Mail ID
5. And Your telephone and mobile Number. ----All these we need to provide to our Government.
 B. Our Contact Details:
1. T. Arvind Mohan Dass,
Director,
Bethel Campus, (Opp) Gonzaga Metric ...School,
Elathagiri - post, Krishnagiri - Dist,
Tamilnadu - India - 635108
2. E-Mail: [email protected]
3. Mobile Phone & Whatsapp: +91 9750371175.
 C. Bank Details for International Donors.
 Bethel Evangelistic And Rehabilitation Centre
Account Number. FCRA - Current Account
No : 40239612426
Branch Code---------------: 00691
Purpose Code-------------: P 1303
IFSC CODE-------: SBIN0000691S
SWIFT CODE--- : BININBB104
ADDRESS: FCRA - Cell, 4th Floor,
State Bank Of India,
New Delhi -Main Branch,
11- Sansad Marg,
New Delhi - 110 001 
For Supporters with in India:- 
Bethel Evangelistic And Rehabilitation Centre
S/B. Account Number: 059901000044608
Indian Overseas Bank,
SIPCOT -Industrial Estate, complex Main Branch,
Hosur -Post, Krishnagiri - Dist,
Tamilnadu, India - 635 126
IFSC: IOBA0000599
SORT CODE: 635920405
Bank Swift: IOBAINBB599
May the Lord richly bless you!
Sincerely,
Rev.T. Arvind Mohan Dass,
Director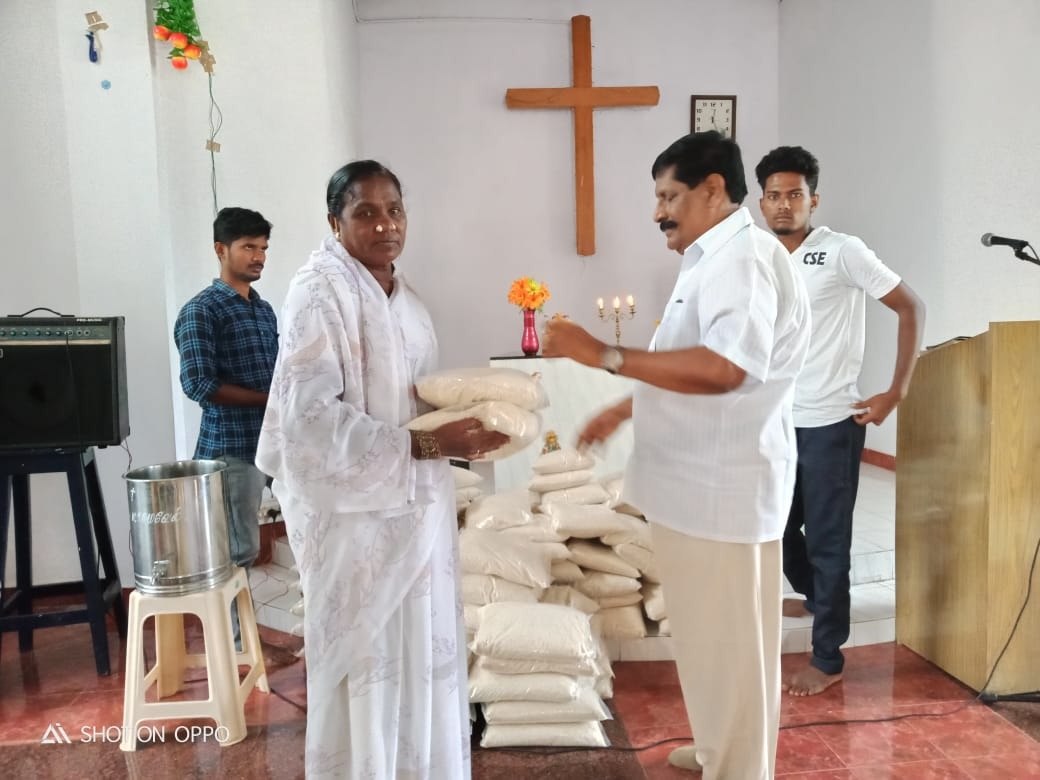 Food Grains Distributed During Covid - 19 Period
For the entire world the year 2020 has been a disastrous year ever. The entire world, from common man to great personalities such as Scienties, medical professionals, economists, world leaders, pastors and renowned prophets 2020 was a riddle and a great mistery. The Churches were closed, the systems of the world came to a grinding halt as there were no air planes, train and bus services that people could live normally and the education system still locked down and many other systems are slowly getting back to normalcy. The entire world lost millions to this pandemic. Millions around lost their jobs and millions were laid odd. Many small business, Companys had to shut down due to shortage of business and funds. We are all living in great crisis right now and these are trying times for all of us. 
Operation Covid-19
We are grateful to God who enables us to sustain people by providing food grains , grocery, warm blankets, and new dress to people in villages, who lived entirely dependent on their daily wages they earned by working in the fields of rich land lords and by doing jobs in small eshtablishments. Along with the government provisons, we also were helping people who were in need and asked us to help them. 
We were able to help pay the tuition fees for students ----The educational Institutions collected fees to pay the teachers as they were teaching children daily through "Live Online Classes". We halped elderly senior citizens and provided them  warm blaknets, new dresses, we helped the dead to be buried and helped persons who are suffering with diabetes and Cancer. 
During this year 2021 And Beyond:  , we would like to continue with our Charity and compassion ministries by providing needed assitance to people who needed them most. None of us know what this present year bring forth, but it solid faith on the living God, we commit ourselves to his disposel as faithful stwewards to continue to erve people as the Lord would provide us funds. Mostly, the year, 2021 is not going to be a nice year. As we live in the Eshcotological times, and the soon 2nd, coming of our Lord Jesus Christ, we must equip ourselves to accomplish and fulfill our good works to needy and suffering people. 
Donate to our Charity: 
 As the Director of this Organization and as a servant of the Living God, I take this Opportunity to challenge you to donate to this "Virtuous Cause" and earn a bountiful reward now and in God's Kingdom. You can write to the Director at:
[email protected]
and ask how you can send a donation. The details are given in the Home page. 
Rev. T. Arvind Mohan Dass, 
Director. 
"And suddenly there was with the angel a multitude of the heavenly host praising God, and saying, Glory to God in the highest, and on earth peace, good will toward men"…(Luke.2:13-14)
The LORD gave a, God's "REHMAH WORD", for this Year's Christmas which I am prayerfully sharing with you. My turn with the Church –Esther Church at Sambalpallam falls on the 1st,-Sec.2019 Sunday and I will deliver the same message and will be breaking the bread and sharing the Holy Communion and in every service where I
This Year, as we reflect on the birth of Christ, "GOD'S PEACE" and "GOD'S GOOD WILL", manifest in each one of our lives as we conclude this year 2019.
1. God's word teaches us that He is our peace. "For He Himself is our peace, who has made both one, and has broken down the middle wall of separation, having abolished in His flesh the enmity, that is, the law of commandments contained in ordinances, so as to create in Himself one new man from the two, thus making peace, and that He might reconcile them both to God in one body through the cross, thereby putting to death the enmity.(Ephesians.2:14-16
… DO WE HAVE PEACE IN OUR FAMALIES? DO WE HAVE PEACE IN OUR SOUL? Are we guilty of some things? Are we afraid and fearful of some things? Haven't we forgiven some one? Do we hate someone and have grudge and a spirit of revenge? Do we woe someone some things? What is that steals our Peace? He paid the price for our peace. In Isaiah 53:5.." the chastisement of our peace was upon him. To every one of us who go to the cross seeking God's peace, He provides peace. HE IS THE PRINCE OF PEACE. He gives peace in our soul
.
2. His Peace is Divine and not Human and worldly. HIS PEACE IS ETERNAL AND EVERLASTINGH. Our Lord Jesus Said, "Peace I leave with you, my peace I give unto you: not as the world giveth, give I unto you. Let not your heart be troubled, neither let it be afraid.(John.14:27). No matter, what may come, will it be a journey through fire or water, life or death, plenty or famished, healthy or sick, we will have His presence and peace. The world will go through turbulent times. No matter how hard The Pope and the other world leaders try to bring peace by their wisdom, money and bless their nations with all goodies, they cannot ESTABLISH PEACE FOR THE NATIONS OF THE WORLD. BUT LORD JESUS AND THE Gospel can! That's the only hope.
3. We are ambassadors of Peace; for Jesus said, "And into whatsoever house ye enter, first say, Peace be to this house. Yes! THE GOSPEL OF OUR LORD JESUS CHRIST IS THE GOSPEL OF PEACE!" And your feetshod with the preparation of the gospel of peace;…(Ephesians.6:15) This is not telling people that we all want to live with all in peace; rather it is the 'PROCLAMATION THAT PEOPLE SHOULD TURN TO GOD AND SEEK HIS PEACE, BY BELIEVING IN THE WORD PREACHED. We are reconcilers. "Blessed is the peace makers, for they shall be called ass the CHILDRFEN OF GOD!
II. Satan's ILL WILL – and GOD'S GOOD WILL TOWARD MEN:
From the beginning satan's only mission is t Propagate Lies, misinterpret, Twist, and to hood wink with "creamy false promises", and then leave them dead in their soul, lose their DIVINE GLORY, lose their "esteemed position", embrace curse and divine anger and be cast out. Satan is a manipulator. Lord Jesus said, "The thief cometh not, but for to steal, and to kill, and to destroy: I am come that they might have life, and that they might have it more abundantly". (John.10:10)
Satan's mission is manifested through "Sickness, debts, unemployment, unmarried status, barren wombs, various kinds of lusts, abuses of various kinds, immorality, disobedience, disagreement, famine and starvation etc…But when Lord Jesus was born in the flesh, he drove home the last nail in the coffin of Satan. Jesus went around preaching Hope, forgiveness of sins, deliverance from sickness, raised people from death, he made the lame to walk, and opened the blind eyes so that they may see and He cast out demons. "The one who commits sin is of the devil, for the devil has sinned from the beginning. The Son of God was revealed for this purpose: to destroy the devil's works.(1. John.3:8)
Are we not living witnesses to the goodness of God in our lives? And God's goodness will continue to be with us If we abide in Him like wine branches with the wine tree. It is bountiful, eternal, immeasurable, and who knows the fathom of it. For God's Word says, "But as it is written, Eye hath not seen, nor ear heard, neither have entered into the heart of man, the things which God hath prepared for them that love him. (I.Corinthians.2:9; Quoted from Isaiah, 64:4)
Amen!
/